oooh...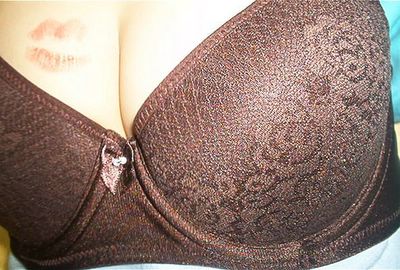 ...cleavage shot JUST for our
LBB
.
I rode my bike in this morning and wished I had my camera to get some gorgeous shots. It was a beautiful and chilly morning. I had my
biker
shorts on, you know, the ones with the built in diaper? (They might look stupid but they'll come in handy after work when we're partying and I don't feel like getting up to use the restroom) I bought them back in the 80's when i was a size 6 and I don't remember them looking so unbelievably frightful but sure as shit...maybe it's because they're black and yellow. Probably doesn't help that my workout top is a spandex long-sleeved black turtleneck which both together made me look like a fat New England Bumble bee.
Then about a mile from work I start getting a blinding headache. I'm freaking out becuase an ambulance would take forever to find us and I'm pretty sure aneurysms are quite quick. (I'm a hypochondriac too - another bad habit) It's worse when I'm leaning down, better when I'm sitting straight up. Hmm...I figure out it's just my helmet. It's too friggin tight. When I take it off I have major lines in my forehead like a total nerd. Phew...crisis averted (or is it diverted?)
Today is only Thursday. Crap. But after work I reward myself with cocktails and cribbage and chums. yay! "aahbanadaaah!"...($5 to anyone who knows where that last word comes from)